School Physicals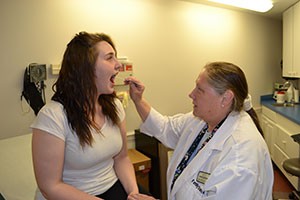 What are school physicals?
School physical exams are a common requirement in most school districts. Children pick up germs and diseases at school and could potentially spread them to their parents, siblings, coaches and teachers. Many diseases can be found out from symptoms like sneezes, coughs, sniffles and such but many others so not exhibit immediate symptoms. This is the reason why physicals are so important.
Why is it so important?
• There are medical problems that make it hard for the child to concentrate and can negatively impact the child's performance at school.
• A physical will identify any acute or chronic illness that your child may have and would help you take immediate actions to remedy it.'
• The Physical provides you with an opportunity to talk to the healthcare provider about any eating disorders, behavioral problems or sleeping difficulties your child may have
• Many illness can be treated if caught early.
Who needs a school physical?
• A child who has illnesses like asthma, diabetes or other diseases must have a physical done every year. It is of more importance if your child takes any medications for chronic illnesses.
• A healthy child needs to undergo physicals every 1 or 2 years.
What to expect during a physical?
• Like any other medical exam, the healthcare provider will weigh, measure and check the vital signs of your child.
• They will also examine the the child's heart,lungs, abdomen,eyes,ears,nose and throat.
• Your child will be examined for strength and flexibility if he/she needs to participate in sports.
• It is important to follow up any medications or injury treatment with the healthcare provider.
What you can expect when you visit our clinics
1. Stop by our front desk to visit a certified Nurse Practitioner or Physician Assistant. No appointment is required.
2. Your medical practitioner will examine your medical background, go over your medical issues, perform an examination and supply you with an individualized plan for treatment. This might consist of non-prescription items or a medical prescription.
3. Towards the end of your visit to our clinic, your medical attendant will give you an overview, an invoice and some instructional material may be given.
4. The overview of your clinic visit can be forwarded to your primary health care provider with your authorization.
Insurance is not accepted for physicals or TB testing and payment is due at the time of visit.