Screenings & Monitoring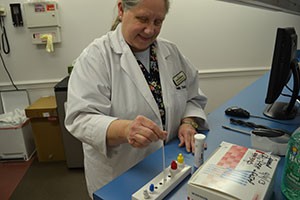 Closely monitor your state of health
Our convenient professional services allow you to stay in good health on your timetable.
Are you aware of and have an understanding of your data? Since being aware of your blood pressure levels, cholesterol levels, glucose and body mass index (BMI) is essential to preserving your good health; we provide a number of screening services and bundles.
Should you wish to keep on top of an ongoing affliction, we are able to assist with that, as well. Our healthcare professionals give standard tests, immediate results and educational assistance to those identified as being diabetic, high cholesterol levels or hypertension. We also provide convenient A1c checkups for people with diabetes.
Use our services for:
Screenings
Cholesterol levels screenings
In depth health screenings
Diabetes screenings (glucose)
Standard health screenings
Monitoring
A1c checks
Diabetes monitoring
High cholesterol monitoring
Hypertension monitoring
What you should understand about screenings and monitoring solutions at Family Statcare
Age limits for assistance will vary. Make sure you look at the specific services webpage to find out more.