Why Choose Us
We provide value, quality care and convenience.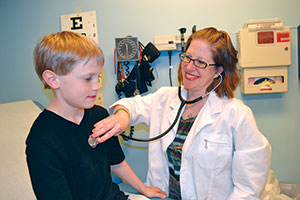 Discover what our happy patients are saying about the amazing services at Family Statcare.
Family Statcare delivers quality care to a convenient location close to you.
Here is a list of our convenient services:
•  Open evening and weekends, 7 days a week
•  No appointment required
•  Located in select ACME Fresh Market and Buehler's Fresh Food stores
•  Constantly expanding locations and services
•  We take the majority of medical insurance policies
We provide a wide selection of medical services to help you and your family stay healthy. Aside from identifying and treating health problems, accidental injuries and skin disorders, we also offer many health and well being solutions, such as vaccines, physicals, screenings and keeping track of long term ailments.
Our Certified Nurse Practitioners and Physician Assistants offer health services for both adults and young ones, a year and a half and over. Furthermore, we can forward an overview of your visit to your own primary medical professional, with your consent. In the event you don't have a primary health care provider, we can easily supply a directory of neighboring doctors taking on new patients in your neighborhood.
Explore this website to discover more about our knowledgeable, caring healthcare professionals, our strict regulations and attention given to high quality, and our medical related affiliations in local neighborhoods nationally. This will help you to understand why so many people have selected Family Statcare as their option for convenient, first-class health care.
See our affordable rates here. We accept the majority of medical insurance policies. We also accept cash, credit cards and checks.
Let Family Statcare provide quality health care to you and your family.